This Chester County two story colonial was staged by Organized by Design. It sold $25,000 over the average selling price for the neighborhood. It also sold $5000 over list price!
Invest in Staging for Results
Investing in a vacant home staging to sell your home doesn't have to be for only high-end homes.  This modest Chester County home realized fantastic results by selling $5000 over list price.  The home also sold $25,000 over the average selling price in the neighborhood!  This new sale price was quite a return-on-investment for the seller.  Equally as impressive, the sale price set a new higher standard for future sales in the neighborhood.  Organized by Design was honored to have the home staging featured by RESA®. Read the full article from the Home Staging Newswire here:  Two-Story Colonial Home Staged by RESA-PRO Sells Over List Price 
Consultation Recommendations
The sellers followed the recommendations from Organized by Design's Real Estate Home Staging and Curb Appeal Consultation. New carpets were installed on the entire first floor plus the stairwell. Also, the walls were painted Sherwin Williams #6072 Versatile Gray. This color would make the perfect backdrop for our vacant home staging.
Vacant Staging
Organized by Design staged the 5 most important rooms. Those rooms were the living room, dining room, kitchen, family room and master bedroom for the best impact and appeal to potential buyers.
A beautiful aqua accent color ties together the living room and dining room.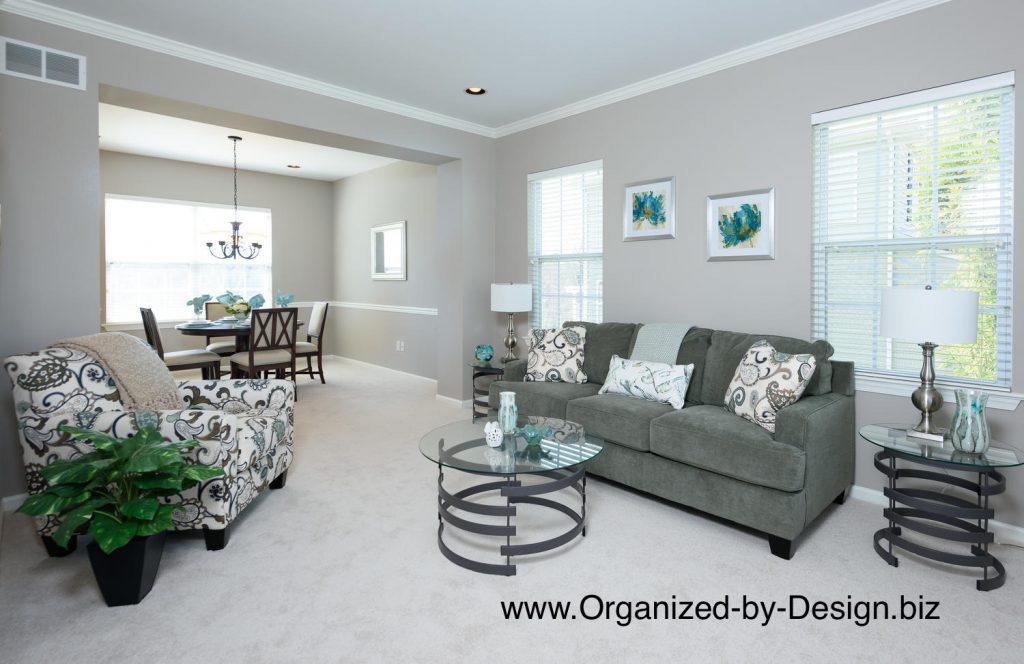 In addition, what a versatile gray wall color it is!  Look how the family room takes on a completely different look with yellow as the pop of color.
The master bedroom had a  soft yellow wall color already in place.  There was no repainting was needed to stage it with a cream, gray and gold palette.
Never underestimate the benefits of home staging to sell your home.
Return on Investment
The old adage of  "you have to spend money to make money" holds true. Although with staging you might say "you have to invest money to make money".  However, you do have to invest in the cost of staging first to reap the rewards of selling the home for more money in less time. Besides, less time on the market equals less carrying costs for the property.  Regardless, selling a home for 10% more than the median selling price of a neighborhood is a smart investment for any savvy seller!!!