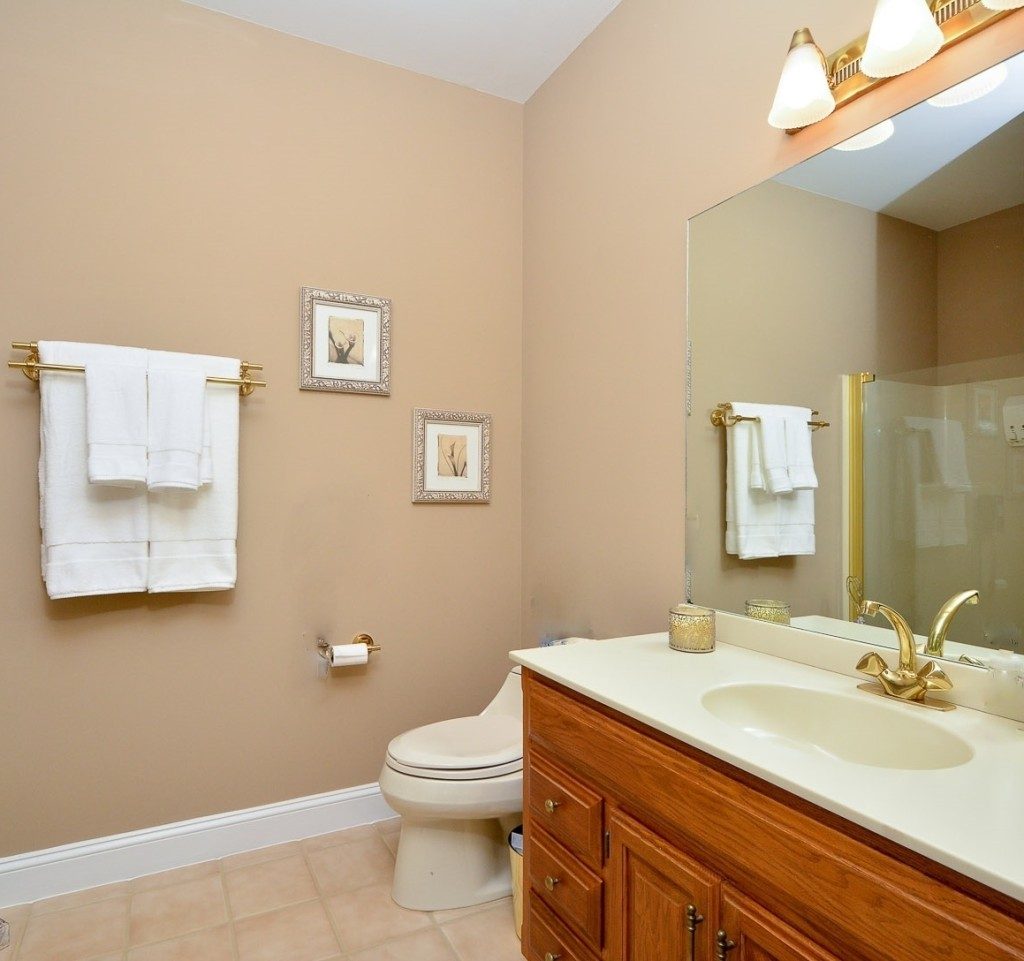 Here are 12 expert tips for successfully staging a bathroom. Bathrooms may be the smallest rooms in your home, but don't overlook their importance when its time to stage your home to sell.
Clean!   Do it yourself or have a cleaning service do it, but make sure your bathroom gets a thorough cleaning, including the mirrors. Buyers are particularly put off by unclean spaces, most especially bathrooms.
Remove any wallpaper.  Wallpaper is subjective décor that most buyers do not like and will not want to deal with as it will cost either time or money to remove. Take it off the buyer's punch list and remove it in advance of putting your home on the market.
Paint if needed. If the ceiling or walls are stained, scuffed or look anything less than perfect, have it painted. Fresh paint goes a very long way to having the room look clean and finished.
) Make repairs if needed. If anything is not working, leaking, or broken, fix it. Today's buyers are not looking for fixer upper homes unless they are investors searching for a bargain. Most buyers want move-in-ready, well-maintained homes.
 Update to stay competitive with other homes in your market. Updating one or more features such as lighting and plumbing fixtures, cabinetry, hardware or flooring can be beneficial without breaking the bank if done relative to the price and style of your home. Don't overdo the update or you will defeat your purpose.
 Clear the vanity, back of toilet, tub and/or shower and the floor of all personal items, toiletries and cleaning supplies. No buyer wants to see all of your personal things covering the bathroom. Think 5 Star Hotel! You wouldn't want to use a bathroom that looks like its occupied!
 If the vanity is large or with double sinks you may need an accessory or décor item for the vanity. But remember that with staging less is more, so you don't want to clutter the space with lots of decorative items.
 Unused,clean towels should be displayed. Remove dirty worn towels.
 Remove all of the various scatter rugs to open up the floor space visually and make it appear larger. If you have tile or hardwood floors you will want your buyers to see them.
Keep the toilet seats down.
 Remove all children's apparatus such as step stools, potties, potty seats and toys.
 Remove litter pans. Buyers do not want to see, smell or think about sharing this space with your cat.
Implementing some of the 12 expert staging tips for successfully staging a bathroom listed here, you can be assured a room as significant as your bathroom has been given your top priority when it comes time to show your home to potential buyers!