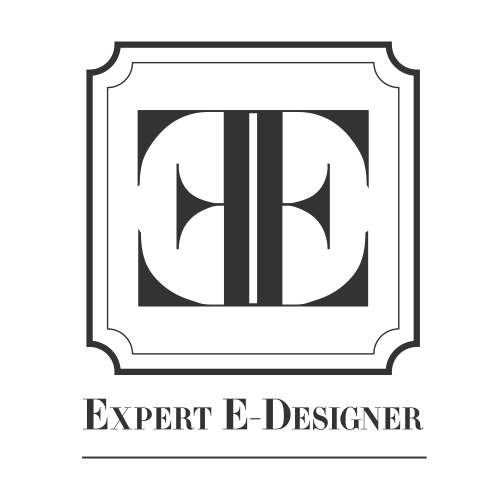 E-design online "shop the look" room makeovers! What exactly is E-Design you ask? "E-Design is using technology to allow a designer to provide inspiration, expert sourcing and design expertise in a detailed room plan with product links at a fraction of the cost of full-service design." Defined by Audra Slinkey the creator of the Expert E-Designer certification training program.
If you have ever dreamed of having a beautiful designer-inspired room. A room perfectly coordinated for you in your home. However, you don't want the expense of an interior designer or a big design firm fee. Or maybe you've always wished for a beautifully styled room. A room that expresses your unique style. However,  you can't seem to pull your personal style together for a cohesive look in the room.
What if you could get a coordinated, aesthetically pleasing room? And at a fraction of the cost of hiring a design firm?  Better yet, without spending the better part of your life doing so? Whether it is; hours, days, weeks, months of your own time trying to find items that work together in your room?
Consider Organized by Design's new "Shop the Look" Room Makeover Packages. Your room makeover is styled for you from the information you provide. All you have to do is click on the curated shopping links to order the items from your personalized concept board. Voila! You now have a "Styled and Pre-packaged Room to Go" at your fingertips!
What are the benefits to you?
Creates a cohesive plan for your space.

It is extraordinarily budget friendly because you are only paying for the expertise of styling the room and not the time-consuming shopping of the interior designer."

It provides a visual image so you can see the products for your space while including the detailed information of the products.

Saves you time so you are not spending hours looking for items to complete the room yourself.

Avoid the costly mistakes of choosing items that do not work well together.

You can control your budget.

It allows you to purchase items on your schedule and when you are ready.
How does it work?
Choose a room to makeover.

Answer our Key Questions to determine if "Shop the Look" is for you and fill out the easy questionnaire.

Send some photos of your space and/or an inspiration room you'd like us to recreate.

We'll create a concept board to style the room makeover for you with a custom color palette and include the shopping links to purchase the items in the design
Is the Online "Shop the Look" Room Makeover Package for me?
This service is not for the person that enjoys the in-person shopping at stores vs online shopping. And that's ok too!  This is a service for the person that wants a cohesive beautifully styled room. But without spending hours upon hours searching on their own. Someone that also doesn't want to spend thousands of dollars to a design firm for the service. It's a way for you to fast forward to a coordinated harmonious room makeover. You are able to use the curated shopping links to order the furnishings to complete the room.
Styled Concept Board example
Here's an example of a styled concept board created specifically for a client. In the complete package (shown is just a copy of the board), the client receives the details for all of the items pictured. The shopping links are also provided.  All the client has to do is click on their keyboard to order their room makeover.  All from the comfort of their home and even in the comfort of their fuzzy slippers if they so choose!
If this sounds like a perfect room makeover fit for you. Consider our E-Design Online "Shop the Look" Room Makeovers! Click on this link to go directly to view the packages.  Choose from one of our three available "Shop the Look" Room Makeover Packages. https://designfiles.co/design-packages/organized-by-design Or feel free to contact us for more information.
Great Style doesn't have to be expensive!